Publish sighting | Publish lost | Give in adoption | Publish litter | Publish external case | Publish service | Countries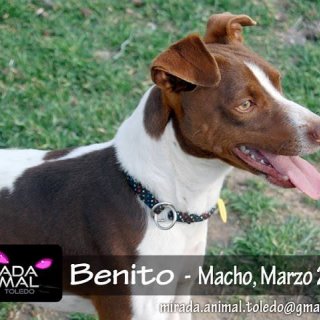 Description

Benito lleva con nosotros en acogida tres años, en este tiempo nadie se ha interesado por él. Es un bodeguero precioso, un perro para disfruta de tener perro, divertido en el campo, duro como una roca, simpatiquísimo con personas y niños, sociable con perros. (marzo de 2011) Su historia es conmovedora, pocas veces hemos visto un perro tan maltratado, lo recogimos en un estado de desnutrición severa, herido de bala y en estado de pánico. Benito llegó a su casa de acogida en un estado lamentable tanto física como mentalmente. Las heridas físicas se curan, las del alma permanecen aunque mejoren. Desde el primer momento se gano el amor de todos, verle tan destrozado solo podía producir ternura y así fue. En la actualidad físicamente este curado y mentalmente…tiene algunos miedos todavía. Escribo estas líneas desde el dolor más profundo, quiero profundamente a este perrín, lo adoro pero ya no puede seguir en mi casa. Benito es cazador, el no tiene la culpa, es lo que le han enseñado, pero los gatos tampoco tienen la culpa de tener por vecino un depredador. La situación es tremendamente injusta para los gatitos, veo como va matándolos y no puedo hacer nada… es muy doloroso, frustrante, injusto, salvaje. Sabemos que mover a Benito de su entorno va a ser muy duro para él, pero después de meditarlo profundamente no nos queda otra solución, no puede ser que porque Benito no pase una adaptación sigan muriendo pequeños inocentes. Buscamos una adopción o acogida para Benito, pedimos simplemente una casa donde sean muy cariñosos puesto que él también lo es. Benito tiene unos 3 años y se entrega con contrato de adopción, chip. vacunas, leishmania negativo y castrado.

Status

Specie

dog

Breed

.

Gender

Male

Birthdate

March 30, 2011 00:00

Created at

August 30, 2018 12:31

Location

Argés, Toledo, Castilla-La Mancha, Spain, latitude 39.804005454174 and longitude -4.05884575.
Location

Argés, Toledo, Castilla-La Mancha, Spain, latitude 39.804005454174 and longitude -4.05884575.
Protector: MIRADA ANIMAL
User avatar: Mirada Animal